About Patty
Patty's
Products
Patty's
Events
Patty's
News
Patty's
News
Archive
Patty's Past
Appearances
Patty's
Programs
Patty's
Press
Patty's
Photos
Patty's
Guestbook
Contact
Patty
View Patty
Hall's EPK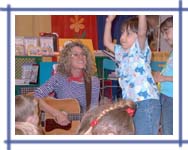 PATTY HALL KNOWS WHAT KIDS LIKE TO SING ABOUT. And she hasn't forgotten how much fun it can be to sing loud, clap hard, and strut your stuff to good music. So, she's come up with a special program just for kids called JUMPIN' UP SONGS!tm

WHOEVER SAID KID'S MUSIC IS A SIT-STILL PROPOSITION hasn't been to a JUMPIN' UP!tm gathering. Patty's JUMPIN' UP SONGS!tm are the kind that inspire humming, call out for drumming, and will most definitely get you moving and in the music groove. Whether it's singing along, keeping time, or dancing, when you're at a JUMPIN' UPtm event, being a part of the musical action is what its all about. One thing's for sure—there are no couch potatoes at a JUMPIN' UP!tm program.

SO WHAT HAPPENS AT A JUMPIN' UP!tm PROGRAM? First, you'll get to sing along with songs you already know. And you'll have a chance to learn some new songs too. But don't worry if you don't know the words—they're easy to learn. Then, Patty will share stories from some of the children's books she's written. And, you'll get to hear some special JUMPIN' UP SONGS!tm she's composed to go with the stories!

YOU'LL ALSO GET TO HEAR Patty play different instruments - familiar ones like guitar, banjo, and keyboard. And some unusual ones too. Before you know it, you'll be joining in, helping out with rhythm, and maybe even dancing!

PATTY'S JUMPIN' UPtm SONGBAG IS OVERFLOWING with all kinds of music. Songs about make-believe critters, come-alive toys, and cookie-growing trees. Tunes about cowboys and crocodiles; frogs and dogs; lollipops and lemon drops. And ones about helping each other out and making the world a better place. Some, she learned at folk festivals and summer camp. Others, she heard growing up on her parents' hi-fi, and from fellow musicians and songwriters. And, there are even some new JUMPIN' UP SONGS!tm Patty has written herself.

BUT GUESS WHAT? In order to make it into Patty's JUMPIN' UP!tm Songbag, a song first must pass the Goosebump Test. That's right—the Goosebump Test! Which means it has to be so catchy, so unforgettable, and SOOOO good, that it makes the hair on your arms stand straight up and say howdy.




JUMPIN' UP SONGS!tm REACH OUT TO ALL KIDS. Short and tall. Big and small. Kids from all parts of the U.S. and around the world. Kids with freckles and glasses,and braces; kids on bikes and skates and in wheelchairs. JUMPIN' UP SONGS!tm are for any kid who wants to have fun with music. Because when the jumpin' up begins, nobody should feel left out.

JUMPIN' UP SONGS!tm AREN'T JUST FOR KIDS. We were all young once, right? So, if you're a grownup, come on and join the fun. Between the camp songs, sing-alongs, and golden oldies, Patty will have you crooning loud and jumpin' up as high as any young'un!

JUMPIN' UP SONGS!tm ARE ABOUT MUSIC OF THE WORLD. Drawing on her college training as a folklorist, and her versatility as a musician, Patty has included a kid-size sampling of English ballads and southern blues; Island calypso and American ragtime; Eastern European klezmer and Mexican Conjunto in her JUMPIN' UP!tm Songbag. And she'll demonstrate some unusual instuments, like Australian didgereedoo, Applachian dulcimer, African Mbira, and Trinidadian steel drums—all to introduce kids to the rich musical styles, traditions, and instruments from around the world.

JUMPIN' UP SONGS!tm GIVE KIDS A VOICE. Youngsters love to celebrate, but they also like to work on solutions. Patty's JUMPIN' UP SONGS!tm inspire kids to be empathetic and tolerant, and to speak out about things that matter to them like world peace, combating violence, and respecting differences. And most importantly, to reflect on their future role as caretakers of planet earth.

JUMPIN UP SONGStm CELEBRATE RAGGEDY ANN AND ANDYtm. Among Patty's newest JUMPIN' UP SONGS!tm are ones she's written about America's favorite rag dolls, Raggedy Ann and Raggedy Andy. Complementing the themes of books she's written about Johnny Gruelle's rag dolls, these songs reflect the spirit and positive core values embodied by the Raggedys. Patty is proud to add these new songs to her growing JUMPIN' UP!tm repertoire.

GET READY TO JUMP! Now it's your turn! So come make a joyful noise with Patty, as she showcases the wonders of music and celebrates the joy of being a kid. Bet you anything, by the time you can count to fifty-'leven, you'll be jumpin' up for sure!

PATTY HALL HAS BEEN JUMPIN UP! since she was knee-high to a grasshopper. At age 13, she picked up her Dad's ukelele, listened to some old records, and fell in love with folk music. For more than 40 years, Patty has performed at folk festivals, coffeehouses, and special events and for more than three decades, has been composing songs for all ages. She's spent the past dozen years authoring books for kids and adults and traveling the U.S. presenting programs on writing, music, and Raggedy Ann and Andy.

Click Here to Book Patty's JUMPIN' UP SONGS!tm program.

Click Here to hear a sampling of Patty's JUMPIN' UP! SONGStm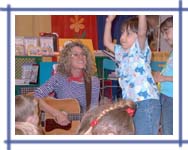 WHAT FOLKS ARE SAYING ABOUT


"We were absolutely delighted having Patty read stories and sing her Jumpin' Up!tm songs for the kids who visited our booth at the Kids Expo! Thank goodness she was able to be a part of our exhibit - she really attracted a lot of kids and their parents and helped to make our weekend a BIG SUCCESS!!! We are looking forward to having her appear at our Children's Book Festival this fall."


Barry Ackerman
Executive Director
Orange County Children's Book Festival


Patty Hall's Jumpin' Up!tm Songs was a fun, engaging evening of music and singing for families at the Del Mar Library. Attendees got to learn about and join in on maracas, claves, and even a kid-sized steel drum, as wall as other rhythm and percussion instruments from around the world that Patty brought with her, joining in on her original songs and folksongs. Young and old -- everyone got to participate!"


Gretchen Schmidt
Head Librarian
Del Mar Public Library
Del Mar, CA


"It was a privilege and pleasure for the Johnny Gruelle Raggedy Ann and Andy Museum to host author, folklorist, and musician/songwriter Patricia Hall for our Member's Only Reception this year. "We were very fortunate that Patty premiered some of her original Jumpin' Up!tm material, as well as performing old favorites. The audience loved both the variety of songs included in the performance as well as Patty's energetic and enthusiastic presentation. "It was by far the most popular program that this museum has presented, and we really appreciate Patty's agreeing to appear. We are still receiving enthusiastic remarks from our members who are now her adoring fans!"

Joni Gruelle Wannamaker, President
Tom Wannamaker, Curator
Johnny Gruelle Raggedy Ann and Andy Museum
Arcola, Illinois


Patty's Programs
Native Daughter | Jumpin' Up Songstm | A Book is Borntm
Raggedys Hurrah! | Learn With Raggedy Ann and Andy
Through the Eyes of a Child



© Copyright 2004, Patricia Hall.
All rights reserved.
The names and depictions of Raggedy Ann and Andy are trademarks of Simon & Schuster.

Home | Music | Books | Order | Book Patty | Hear Patty Live
About Patty | Patty's Products | Patty's Upcoming Events
Patty's Past Appearances | Patty's Past Programs | Patty's Press
Patty's Photos | Contact Patty
Native Daughter of the Golden West®
BRAND NEW CD!
ORDER YOUR
COPY NOW
Patty's
Upcoming
Appearances
Patty's News